Uncategorized
now browsing by category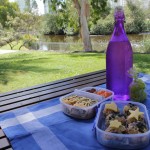 Right out of the cheap date ideas book: take a picnic.
Grab whatever you were going to eat for dinner and head outdoors. Go to a park, community garden, mountain top, or even just your own front door step.
Bonus points for making an elaborate meal for this experience.
Bonus points, also, for going low-key: grab whatever snacks are around the house (crackers, cheese, trail mix, hummus, leftovers, etc.) and create a veritable smorgasboard out of this picnic!