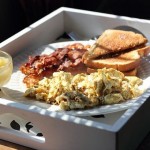 Is breakfast in bed one of the most difficult things to get the hang of as a single person? Maybe it's just me, but it seems a lot easier when I can just stay under the covers and wake up to fresh coffee, french toast and bacon…delivered right to me!
But there are ways to swing breakfast in bed even as a single person. Here are some tips, tricks, shortcuts and suggestions:
Buy a coffeemaker that automatically brews at a time you set. At least the coffee will be ready, although it still won't bring itself into the bedroom.
Ease the transition from bed to the kitchen: wear comfy slippers or wrap yourself in a luxurious robe. Some folks might enjoy playing soft music in the background.
If you have an electric blanket, consider turning it on when you leave the bed (so it's warm when you return).
Have pre-made or heat-and-eat things ready to go the night before.
If you're cooking from scratch, consider getting all of the ingredients ready and nearly assembled before you go to bed.
Consider a no-cook breakfast: fruits, yogurt, granola, berries, smoothies, etc.
Find yourself a nice tray to arrange all of your morning goodies on. Use your good china or silverware. Grab a nice cloth napkin.
Once you have your breakfast all ready to go, make sure you head back to bed!
Cozy up, enjoying the electric blanket, the robe, extra socks, etc.
Fluff up your pillows and make yourself comfortable in bed.
Enjoy the look of this breakfast in bed before diving in to eat. Celebrate how well you're taking care of yourself!
Eat slowly. Don't let your smartphone tempt you. Reading can be enjoyable, but don't let the day (of tasks, responsibilities, news, messages) encroach upon this time.
When you're done, think about what you want to do next. I personally enjoy a nap after these breakfasts in bed. It stretches out the ease and comfort of the experience. Whatever you decide to do, do it mindfully.
And that, my friends, is how to treat yourself to breakfast in bed!