Play Games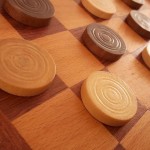 Think of some games that might traditionally be done with a partner or even on a date. We're talking:
Wii games
Board games
Cards
Chess
Checkers
Puzzles
If any of these are your idea of fun, but you haven't played them in awhile because you're flying solo…well, you know the deal on Dating Yourself: play these games for your own enjoyment!
How, you ask?
Set up space for a puzzle and work on it over the course of a week or weekend.
Set up a chess or checker board and play both sides. Take your time, even consider making this a multi-day competition.
For the truly collaborative/competitive games, devise new rules to make them a solo game. Or invite your friends over for a game night!