Join a book group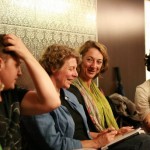 A date with a book is sometimes the best adventure/romance/escape/travel/learning money can buy. Joining a book group is like getting the ear of a best friend who won't tire of all the details of the date.
So, look to your local newspaper, meetup, bookshop or library for a book group. Or, consider gathering your far-flung friends once every two months to discuss.
A book group can, of course, be a group of people all reading and discussing the same book. But, you can get adventurous too. Maybe this is a book meetup where everyone brings their favorite book, discusses it, you let the wine flow, and, at the end, it becomes a book swap.
Read on!