At the Sports Bar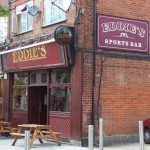 Here's a fun DY (Dating Yourself) idea:
Grab some friends and head to a sports bar. You know, the one you always pass and never think of as a viable bar option? That one!
Option 1: Grab friends who are into sports and actually know what will be happening. Root for their favorite team. Bonus points: get them to explain the game to you.
Option 2: Grab some friends who have absolutely no idea what will be happening, but who will get into the spirit of things nonetheless. Bonus points: choose opposing teams and make a small wager on the outcome.