A Writing Project on the Past Lives of Antiques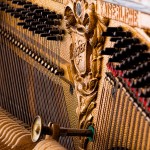 I once read a date suggestion that seemed unique: go to an antiques store and ponder the past lives of what you find.
So, dear reader, consider taking on this challenge:
Find an antique shop and discover a piece that really speaks to you. Immediately decamp to a coffee shop, library or other nearby place and write a piece of fiction about the object.
The story can be short or long, pure fiction, sci-fi or any other genre. You can take a photo of the piece to revisit while you're writing.
Who owned this piece? How did they obtain it? What did they do with it? How did it end up in this antique store? Let your imagination run wild.
Consider this a stretch of your creative muscles, a new way of shopping, or just a micro-adventure to enjoy.